What? Laser Mleaning Machine Is Made to Backpack Now!!!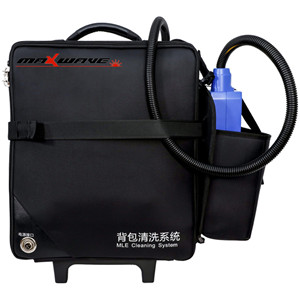 17KG ONLY!
As we all know, laser cleaning machine is the most advanced cleaning method. It can remove stains, paint, rust, etc. from metal and stone surfaces. However, because the equipment is too large, the user has to prepare very long fibers, which increases the cost. Even with this, huge devices are still difficult to move.
MAXWAVE LASER has researched and produced a portable backpack cleaner that weighs only 17kg! This will greatly facilitate the user to clean high buildings and narrow corners. With this device, you no longer have to worry about the length of the fiber is not enough.

Product advantages:
1. Portable design: compact, wearable, ergonomic, single-handed;
2. Efficient cleaning: laser cleaning efficiency is high, saving time;
3. Non-contact type: laser cleaning without grinding and non-contact;
4. No pollution: no need to use any chemicals and cleaning liquid, easily solve the environmental pollution problems caused by chemical cleaning;
5. Strong scalability: replaceable field lens, change the depth of focus, laser cleaning format is wider.
More questions just let us know.
Richard from Maxwave LASER
E: Richard@maxwavelaser.com
WhatsApp&Wechat&Mobile: +86 18571639620
Skype:richard12677