| | |
| --- | --- |
| Laser power | 1500 W |
| Wavelength range | 1080± 10 nm |
| Output fiber core diameter | 50 μm |
| Optical cable length | 7 m or Customized |
| Output connector | Standard QBH (LOC) |
| Indicator light | Red |
| Operation mode | Continuous wave or pulse |
| Polarization direction | Random |
| Output power stability (continuous wave) | <3% (24 h) |
| Power regulation range | 10%- 100% |
| Maximum modulation frequency | 20 kHz |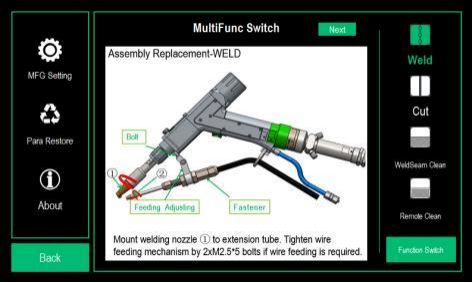 1: Handheld laser welding functions:
The machine can weld 5 mm stainleess,3mm aluminum at least,the welding seal is very smooth and the operation is very easy which don't need a skillful person.
2.Two Handheld laser cleaning functions:
The machine have two cleaning functions, after welding you can change a nozzle then user can clean the weldin seal,the rust and dirst removal width can reach 20mm. If customer want to clean 70mm big width,then need replace the focus lens and cleaning head.
3.Handheld laser cutting functions:
After change the laser nozzle, the welding machine become a laser cutter which can cut 1-2mm metal board.
4. Smallest size machine in market:
The machine is air cooling, not like traditional water cooling,so it very easy to move everywhere.
5.Long life-Span:
The machine use fiber laser source which have over 100,000 hours life span and electric to optic energy efficiency can reach 40% which have high cost performance.
6.Cheap consumptions:
The laser's consumption parts are only some cheap nozzles and protective lens,and user need to buy metal wires and machine support wire feeding welding.
Youtube Video:
https://youtu.be/1uSribQi7Nw
https://youtu.be/UDf2FNvJVcY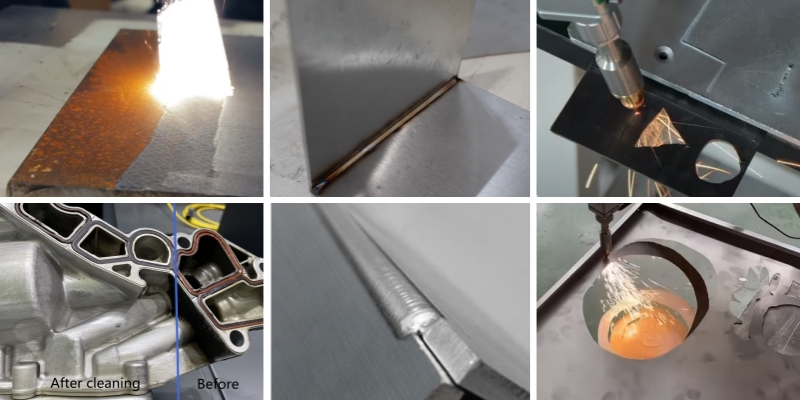 1. Core technology. When we were a small factory, we have focused on the development of core components such as laser power supplies and optical path. Unlike other suppliers, they only sell through assembly equipment.
2. Independent research and development department. This means we can offer our customers customized machines and improve the equipment according to market changes
3. Dealer support plan. In the early stage of customers' market development, we provide technical parameters for the installation and use of equipment free of charge, share good marketing methods, help customers win the market and achieve success.
4. Strict testing. All of the suppliers we work with come from world-class manufacturers. Before the delivery, each machine needs to be tested and inspected for 48 hours (marking machine, welding machine) and 4-7 days (cutting machine) to ensure quality and safety.
5. Timely delivery. Each machine has an accurate assembly process and strict time control to ensure that customers receive goods in a timely manner.
6. After-sales service and guarantee. We offer a 2-year warranty and any problems occur during the period and we have a responsibility to resolve them. If any part of the machine is broken, we will repair it for free and send free accessories.