Content
MW-LC100
Supply voltage
Single phase 220V+10%、50/60Hz AC(Customizable:110V to 380V、50Hz AC)
Power consumption
≤500 W
Working environmenttemperature
5℃~40℃
Working environmenthumidity
580%
Optical parameters
Average laser power
≤500W
Power regulation range(%)
10-100( Gradient Adjustable)
Max Peak Power(KW)
8-10
Fiber length
3m
Cooling mode
Air cooling
Cleaning Head Parameters
Scan range(length * width)
Length and widthindividually continuously adjustable
Field mirror focal length
160mm( Optional160mm-330mm)
Mechanical parameters
Machine size (excludingmoving wheels)
380x270x575mm
Machine Weight
About 30kg
Cleaning head weight(including isolator)
About 1.9Kg
Mode of operation
Handheld/automated

• Compact and versatile, the cleaning machine are designed for the cost-effective treatment of small areas that require gentle high precision cleaning, de-coating and other surface treatments.
• The basic system consists of the laser source, with controls and cooling, a fiber optic for beam delivery and a processing head. A simple main power supply is used for operation with a very low energy demand.

• No other media is required for treating parts. These laser systems are easy to operate and virtually maintenance-free.

Laser cleaning Machine is a new generation of industrial surface cleaning laser system. It adopts theadvanced laser source, laser optical scanners and control system to meet the requirements of metal surface cleaning process. It can remove the rust , oxide, resin, oil contamination, stains, dirt, coating, plating and paint on the surface of different shape metal objects, and the stone carving surface attachment and rubber mold surface residue.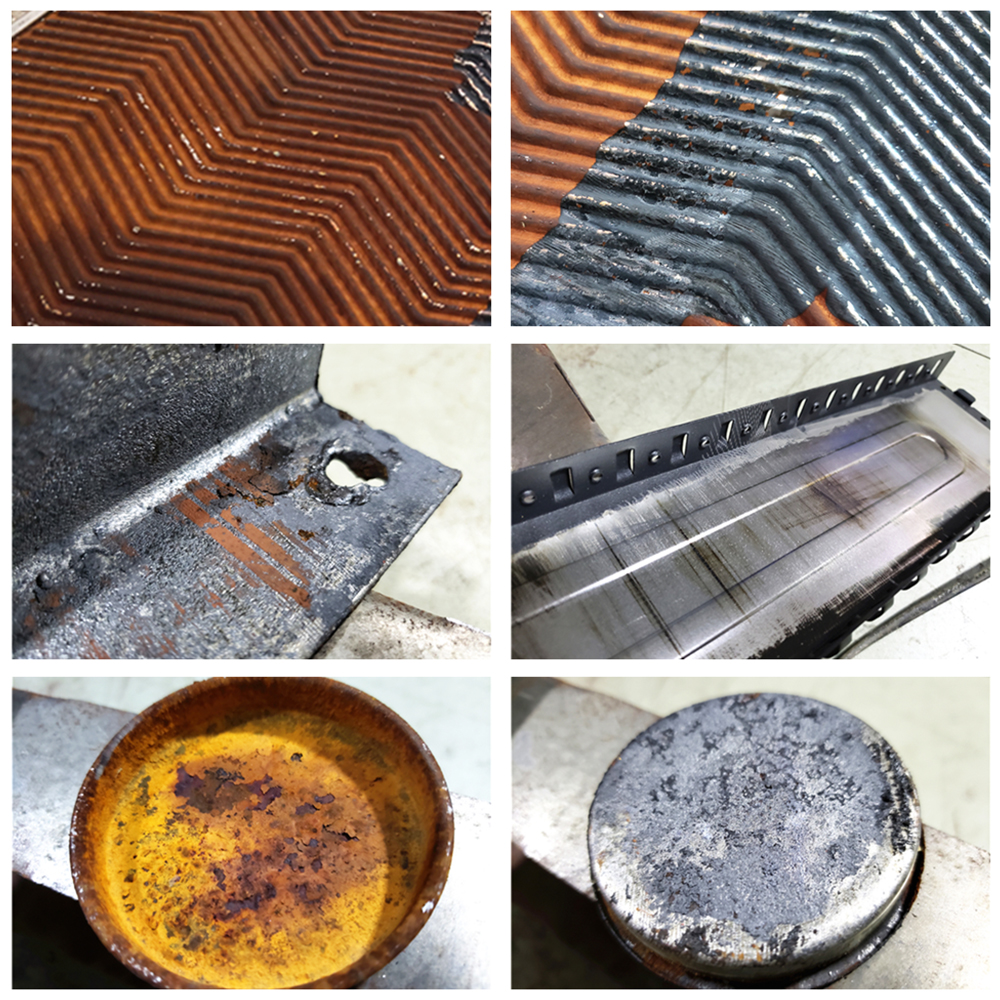 1. Core technology. When we were a small factory, we have focused on the development of core components such as laser power supplies and optical path. Unlike other suppliers, they only sell through assembly equipment.
2. Independent research and development department. This means we can offer our customers customized machines and improve the equipment according to market changes

3. Dealer support plan. In the early stage of customers' market development, we provide technical parameters for the installation and use of equipment free of charge, share good marketing methods, help customers win the market and achieve success.

4. Strict testing. All of the suppliers we work with come from world-class manufacturers. Before the delivery, each machine needs to be tested and inspected for 48 hours (marking machine, welding machine) and 4-7 days (cutting machine) to ensure quality and safety.

5. Timely delivery. Each machine has an accurate assembly process and strict time control to ensure that customers receive goods in a timely manner.

6. After-sales service and guarantee. We offer a 2-year warranty and any problems occur during the period and we have a responsibility to resolve them. If any part of the machine is broken, we will repair it for free and send free accessories.J